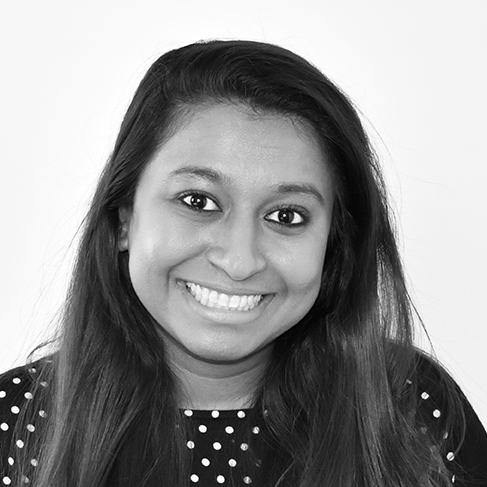 PROFILE
Jessy has completed her law degree and law school and is very determined to qualify as a solicitor. Jessy has worked in different areas of law since 2009 in Sri Lanka and in the UK. Her main specialism is immigration although she is enjoying learning more about corporate, commercial and employment work. Jessy is extremely reliable, loves her work and prides herself for being able to work well with clients from different backgrounds and ethnicities.
KEY RESPONSIBILITIES
Co-ordinate new enquiries
Support all clients
Support legal advisers
Support the firm administratively
Ongoing contribution towards the firm's success
Jessy Ram
Support Team – Paralegal
"Jessy is a delight to have working in our support team. Jessy works diligently and patiently with colleagues and clients to ensure work is carried out to the highest of standards. We have no doubt that Jessy will achieve her ultimate objective of qualifying as a solicitor"
Helen Moore, Managing Director
SUPPORT TEAM
The support team is a critical part of the business' success and they are highly commended for their work.
The support team provides support to both clients and legal advisers to ensure a high level of client care and proactivity. The support team is made up of front of house services, legal assistants, paralegals and trainee solicitors. The support team works in a collaborative way to ensure an impressive concierge service is available to our clients. Nothing is too much trouble for our support team.
TEAM LEADER
The support team is managed by Rachel Toulmin, Solicitor. Rachel ensures that the team is provided with ongoing training and supervision to ensure quality in terms of work and support provided to clients.
SUPPORT TEAM RESPONSIBILITIES
 
Front of house services to ensure a warm welcome
First point of contact for new enquiries
Administrative support
Client liaison in person, by telephone and email
Provision of terms and conditions
Dealing with subject access requests
Co-ordinating replies to subject access requests
Case management for employment or court proceedings
Preparing bundles and collating documents
Basic drafting of legal documents, pleadings and letters
Cost updates to client and insurers
Legal costings at the conclusion of a matter
Providing support to legal advisers where required
The Company Solicitor
Feb 2019 – Present
Paralegal
Peer & Co
June 2018 – January 2019
Paralegal
Silk Route Legal
April 2017 – May 2018
Paralegal
Manchester Plastics
Dec 2016 – Dec 2017
Paralegal
M&S Solicitors
June 2015 – August 2015
Legal Intern
Varners
Oct 2012 – May 2013
Junior Paralegal
Corban Solicitors
Nov 2010 – April 2011
Legal Intern